In 2014, Kaifa Chengdu provided Senegal the first management solutions of AMI systems in Western Africa, including HES and MDMS, and continued to provide remote maintenance and technical support services. With aggregation and analysis of electricity meter data, these solutions enabled comprehensive monitoring of power grid operation, and effectively improved the efficiency of electric meter settlement and the performance of power grid operation, which has accelerated the digital and information construction of energy utilities in Senegal, helping Senegal become a leader in smart power grid construction in Western Africa.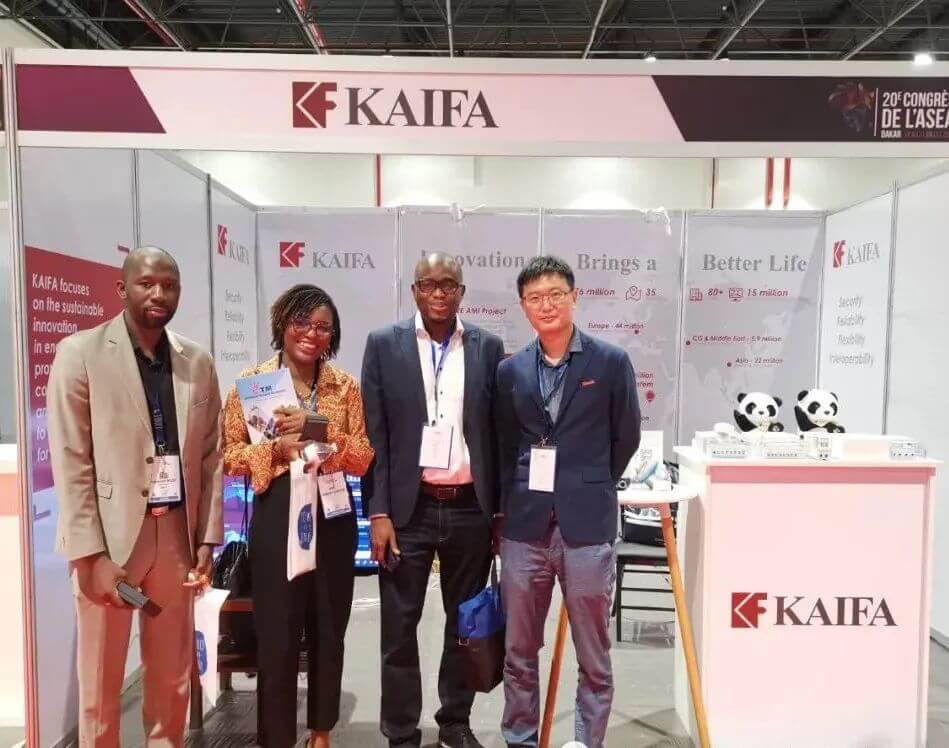 In 2022, Kaifa Chengdu attended the Association of Power Utilities of Africa (APUA) conference where energy utilities gathered together in Senegal, aiming to facilitate the power development and integration in Western Afrimeetca, and provide more reliable and efficient energy for end users.
Consolidating key data foundation

Kaifa Chengdu developed a smart meter reading head-end system (HES) for the Western African market, enabling connection with third-party electric meters based on the DLMS standard protocol and control of meter reading by task scheduling. In addition, Kaifa Chengdu alsocan help energy utilities efficiently acquire electric meter data and analyze the power consumption behavior and pattern of end users by providing multiple third-party interfaces for connecting upper-layer applications. The innovative and highly available HES system greatly shortens the meter reading cycle of local energy utilities and reduces the cost of manual meter reading, achieving cost reduction and efficiency improvement by working with smart electric meters.
In 2020, on-site operation and maintenance became even more difficult as the COVID-19 pandemic raged around the world. To assist the local government in fighting against the pandemic, Kaifa Chengdu helped the energy utilities operate core services in a remote and efficient manner by leveraging the automatic meter reading and grid load monitoring functions of the system, and ensure sustainable and stable power supply for key users, significantly improving convenience service and reducing the risk of infection for outdoor operators.
Supporting digital smart grid construction
The purpose of understanding energy consumption is to make energy consumption plans. The Metering Data Management System (MDMS) provided by Kaifa Chengdu for the Western African market not only supports advanced grid monitoring, but also provides various power quality information to the power distribution management system, making the power grid status transparent. During power transmission and distribution, the MDMS greatly improves comprehensive grid management capabilities in smart maintenance, status monitoring and fault diagnosis, and achieves comprehensive status perception based on the power Internet of Things through cloud coordination, enhancing equipment fault response speed and operation maintenance efficiency. For customers, the MDMS enables delicacy management of energy consumption and identifies sectors with high energy consumption and carbon emissions in an accurate and fast way, which helps energy utilities optimize power dispatching and matching solutions, thus raising power efficiency and reducing carbon emissions.
In the entire Western African and even the African market, Kaifa Chengdu, as an energy system solutions provider, helps energy utilities interconnect various internal related management systems to gradually cover, monitor and analyze core data under the whole operation system. For the periodic improvements on key problems (such as line loss and power distribution efficiency), these systems provide data analysis on a periodic basis, and support continuous monitoring and further research and optimization, so as to enhance comprehensive energy utilization.
In the future, Kaifa Chengdu will continue to actively participate in the BRI construction, and relying on its strengths and in line with international market demand, Kaifa Chengdu will continue to strengthen digital, networked, and intelligent management of energy consumption based on actual needs of African energy market and driven by digital technology and metering data.